The Temple Of Truth Ending
---
*** SPOILER ALERT *** SPOILER ALERT *** SPOILER ALERT ***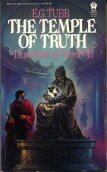 The book The Temple Of Truth and until now the Dumarest of Terra series has ended like this...
Another ghost to add to the rest. One who had smiled and held out her arms and embraced him with a fierce and demanding passion. A woman who had lead him to a place where he had found the secret for which he had searched for so long.
The golden figures incised on the grey, metallic walls of the Holy Place.
Figures which he knew beyond question were the coordinates of Earth.
Soon, now, he would be home.
---
71